MISCELLANEOUS PROJECTS
Here's some information on other projects that I've worked on as a performer, curator, facilitator and participant. Some of these projects can be recreated and reconfigured for other spaces and events.
INTERNET PERFORMANCE INSTALLATION
Launched originally in June 2000, this site went in for a redesign in 2008 thanks to the Asianloop.com.
This fake mail order bride site was my first public art project and was also my senior project at UCLA.
I had been trying to reconcile my relationship with anger and activism throughout college. Why were people so angry? Could any good art be made out of anger? Why was my anger more oppressive than my oppression? And can the act of protest actually be funny and enjoyable? Could I ever be brave enough to create art that not everybody would like?
I didn't build this site because I hated whitey or wanted to singlehandedly tear down the mail order bride industry, but because I wanted to challenge "armchair activists" who were very good at complaining and critiquing what political art should say, but not gutsy enough to actually make that art or present their art to an audience that might actually challenge them back.
The Madame of this mail order bride site is the "Big Bad Chinese Mama." Like some of my other personas– she is not 100% me, but instead a character drawn from angry activist personas (including my own).
This site has resulted in varied reactions of confusion, anger, and appreciation. This is exciting to me, because my goal was to produce vocal reactions (whether they were negative or not). Amazing artist opportunities have come about because of this airw, but I've also unfortunately, been branded into an angry stereotype because of how my own identity of Kristina Wong is misread within this site.
I am surprised when even today, people ask me to talk about the site or respond with such enthusiasm to it. Because for me, this is a very old project… and it feels almost like they are responding to an old Kristina who has since grown up to make other kinds of work.
PAST PERFORMANCES
Fannie Wong and Officer MacGillaWongster at the Xin Lu Bus Tour (collaboration with Ming Yuen S. Ma)
Part of the Visual Communications Film Festival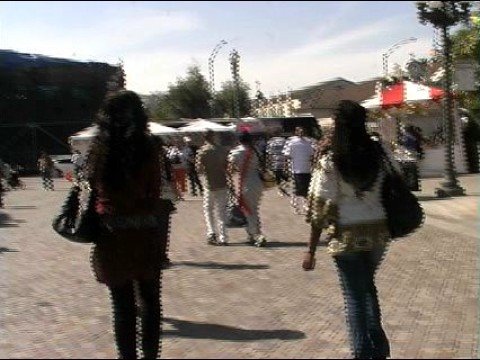 Xin Lu is a large-scale media project exploring the intersections between autobiography, tourism, travel, immigration, exile, and displacement. My performances were presented both as announced events along the tour and as guerilla theater at unexpected moments, give a vigorous shake to the notions of "cultural tourism" and "authenticity", turning some of these problematic notions on their heads. More at Ming's site.
Fannie Wong Postcard Project (2003)
In this collaboration, I worked with Steven Wong, a visual artist. Steve wanted to use my "Fannie Wong, A Touch of Class" character in his postcard project. As Fannie Wong, I dress up as a former Miss Chinatown 2nd Runner up and take advantage of all the "perks" of being a self-made community celebrity– shaking hands, taking pictures, and signing autographs. Steve was interested in the medium of the postcard and how it projects a fictitious memory of places and people. You know how postcards in California usually have women in bikinis laying out on the beach? Yet very few people here actually live that reality? Basically, taking the idea of what memories and fiction postcards project and going further with it by printing up hundreds of cards with intentionally "fictitious" subjects of Chinatown. I was one of five subjects featured as an "authentically inauthenthic" subject of Chinatown. I also helped contribute to the text on the cards. Steve's vision is to plop these cards into real tourist gift shop racks, watch them get sent around the world and eventually surface on ebay one day.
Here is Annie Shaw's more academic, more accurate description of the postcard project from 2003–
"The Wishing Well, oldest landmark of Chinatown, reconstructed by Mike Kelley at Metro Pictures, New York, 1999; Chinatownland by Andre Yi, an imagined landmark erected to last for three months only, now continues to live as a photo backdrop for tourists from all over the world; Old Shanghai Street, the blue neon hidden in cement parking lot of the Phillppe's famous French dip sandwich, the only sign that marks the existence of China City, a fictional peasant valley constructed as a tourist destination and a movie backdrop by Christine Sterling in the 1930′s, who also headed the construction of Olivera Street. Wu Fat Laundry Mat, Warner Bros accentuates the Chineseness of Chinatown by building a Chinese laundry mat inside a Chinatown gallery for a film shoot; Fannie Wong, the authentically fake Chinatown Beauty Queen. While Steven's postcards confront the erasure of histories, they also address the endless cycle of presenting the represented, and the possibility, or impossibility of reclaiming the already fictitious."
The Marriage of Kristina and Kristina
Ceremony Performed at Merkato Ethiopian Restaurant in Los Angeles
June 4, 2008 (also my birthday)
"With this Ring, I Me Wed." A little exhausted of giving to all my friends' wedding and baby registries with no "gift rebate" for my singlehood in sight, I decided to marry myself– the woman who I've spent and will spend more time with than anyone else. My gift registry was with non-profit organizations whose work I believe in. Marcus Kuiland-Nazario officiated the wedding, Pete Lee was my Man of Honor/ Ring Boy, and my friends and other restaurant staff and patrons were witnesses.
I had cold feet. Could I really love, honor and cherish myself… forever? With the encouragement of friends and an Ethiopian man dining at an adjacent table, I took the emotional leap to love myself and have a great life with Kristina no matter what.
While self-weddings are not a new idea and have been performed by other artists, I am taking this idea of a "self-commitment ceremony" into other communities. I have been invited as the guest at Mercy High School in San Francisco (an all girls school and my alma mater) for their Violence Against Women Day where I officiate a ceremony for 500 women to love and commit to themselves. We do!
APACUNT (with Alice Tuan and Soo-Jin Lee)
Performed at the Guthrie Theater in Minneapolis, MN (in the Best Buy Classroom) for the 2nd Annual National Asian American Theater Conference. June 7, 2008
I was intrigued by an exhibit at the WACK! Feminist Art Exhibit at LA's MOCA in 2007 where an artist displayed her rejected proposal where she she would possibly kill herself in the gallery, I thought: I'd like to propose something horrendous and frame my rejected proposal too!
Thus the birth of "APACUNT: Asian Pacifics Americans Cuntemporary Unilateral Neo Theater"–a panel proposal so awful and impossible to execute we thought there was no way it would actually be produced. Right?
The NAATC steering committee thought otherwise and invited us to do it, and thus we created the worst panel in the short history of National Asian American theater conferences. We solved all problems in Asian American Theater by electing one "APACUNT/ Lord of the Pants." Our selection process included a Peanut Scrounging Contest, Whine and Cheese Round, and a Final Freestyle Round where contestants showed off their ability to schmooze and whore.
Other highlights include: Judges/ panelists sitting on a box marked "SOAP," Kristina stroking a one foot felt cock in her pants while the audience read her press quotes aloud, APAcunt results removed from Soo Jin's giant vagina, and Regie Cabico winning the APAcunt crown.
Ensemble Shows and Community Collaborations
re: location (Participating Artist)
Asian Arts Initiative, Philadelphia, PA
This residency collaboration with artists all over the country looked at issues gentrification.
Edge of the World (Participating Artist)
Performed at La Mama ETC New York City, NY
This ensemble based show was an evening length of collaboratively created work inspired by the creative philosophy of the Neo Futurists.
OUTFLOW (Lead Artist and Project Facilitator)
Participating artists: Joy Anderson, Jessica Gudiel, Marcus Kuiland-Nazario, Mitsu Salmon and Kristina Wong
Group show at Highways Performance Space in Santa Monica, CA |
This investigation will highlight Santa Monica's radically shifting racial and cultural situation in times of gentrification.
Carnalville (co-curator)
Group show at Highways Performance Space in Santa Monica, CA
October 30, 2008
A fan of sideshows, carnivals and durational work, I co-curated some of my favorite local LA artists in an interactive adults-only post (post post) modern Carnival. Marcus and I are proud that one of our pieces was deemed "too dangerous" for Highways and was shut down.
Participating artists of our Carnalville included:
Lindsey Haley & Ayde Gonzalez, Kennedy Kabasares, Gul Cagin, Howard Seth Cohen, Pete Lee, Lorely Trinidad, Viet Le, Cuca Esteves
Mariel Carranza, Monica Moran & Doug Dean, Butchalis de Panochitlan, Gennifer Hirano, Maria Turnmeyer & Friends