SOLO PERFORMANCES
---
The Wong Street Journal (currently touring!)
A new solo theater work written and performed by performance artist and comedian Kristina Wong and directed by Emily Mendelsohn. Part plushy TED lecture, part amateur hip-hop extravaganza, and part travelogue, The Wong Street Journal breaks down the complexities of global poverty, privilege and economic theory using uneasy-to-read charts, live hashtag wars, and riveting slideshows from post-conflict Northern Uganda. Wong tells the story of how she as a not-so-white savior, became a hip hop star in Northern Uganda.  Wong combines self-skewering personal narrative with a hilarious interrogation of America's legacy on the rest of the world. All of this plays against an all felt version of the New York Stock Exchange that Wong sewed with her own hands.
Sizzle Trailer


Going Green the Wong Way
In her quest to pursue sustainable living, Kristina Wong purchased a 1981 pink Mercedes that ran on vegetable oil, and endured a nightmare of never-ending car repairs and near death pursuits for the used cooking
oil to fuel it. When the car finally burst into flames on an L.A. freeway, Wong lost the largest line item in her monthly budget, and gained the inspiration for this premiere production.
GOING GREEN THE WONG WAY brings our contemporary urban environment to life, revealing just how tricky it is to "do the right thing." Based on Wong's true-life adventures, but elevated to surrealist heights, the production takes us from Kristina's confrontational 6th grade science project, to her wandering years as a missionary of recycling, to her true calling as Los Angeles' patron martyr of carbon-free living. Directed by Paul Tei. Premiered at Arsht Center for the Performing Arts in Miami, FL.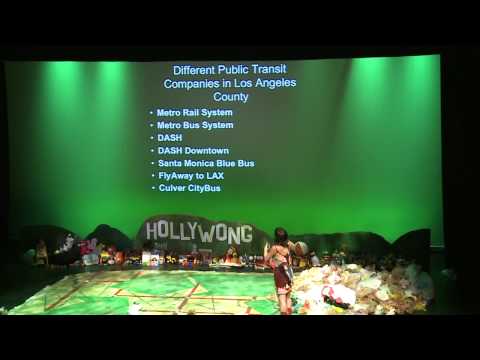 Wong Flew Over the Cuckoo's Nest
Incisive writer and performer Kristina Wong mixes sharp humor and psychology in Wong Flew Over the Cuckoo's Nest, a swear-to-god-not-autobiographical, serio-comic portrayal of the high incidence of anxiety, depression and mental illness among Asian American women. Tangling, spinning, and mixing yarns, she asks: Which came first? The sky-high suicides of Asian American women? The maddening world? And when the heck do we get to climax? Wong's irreverent and provocative work has given her a national cult following for "politically charged art with unapologetic humor." –Bitch Magazine.
Knitters—cuckoo and not—are invited to knit in the audience during the shows.
Wong Flew over the Cuckoo's Nest is a National Performance Network Creation Fund Project commissioned by Asian Arts Initiative and La Peña Cultural Center. Funding for Wong Flew Over the Cuckoo's Nest has also been provided by the National Endowment for the Arts, The Ford Foundation, and La Peña's New Works Fund supported by The James Irvine Foundation. Wong Flew Over the Cuckoo's Nest is also a Project of Creative Capital.
DVD NOW ON SALE! flyingwong.com
---
Free?
With more street cred than you can shake a pair of Hammer pants at, Kristina Wong swoops into your town to riff on notions of freedom in times that would make Joe McCarthy gasp. Excerpts include a satirical homage to "save the world in five minutes" spoken word, a Flashdance tribute, and an explanation (or un-explanation) of why she prefers life in the almighty closet. Bidding paddles will be provided for a live auction of gentrified neighborhoods.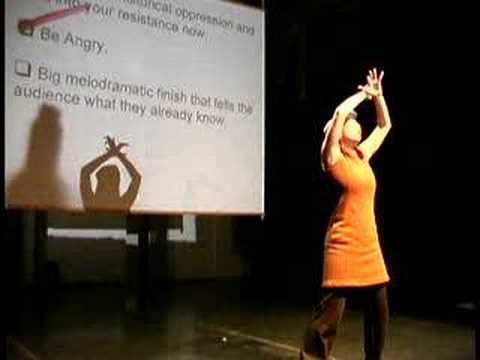 ---
Hooray Whoring For Hollywood! Kristina Wong's Big Hollywood Showcase!
I was invited to sell my multi-disciplinary grassroots performance artist soul to the execs at Comedy Central in my own industry showcase! I jumped on that opportunity (or casting couch) faster than you can say "Health Insurance!" The end result was a "Best-of-Wong" Hollywood pander-rama where I whored my abilities to sing, dance, act, step and fetchit.
---
Cat Lady
Animal psychics, aggressive pick-up artists and musty cat ladies come together in the hilarious and slightly frightening mind of writer and performer Kristina Wong. With incisive wit and delectable comic timing, Wong bends the parallel worlds of the pathetically lonely into an intersection of characters living at the margins of gender and society, while boldly attempting connection with the opposite sex, confronting inter-species betrayal, and seeking solace and celebrity on reality TV.
Shown as a work-in-progress at the REDCAT NOW Festival 2008.
---
---
Stand-Up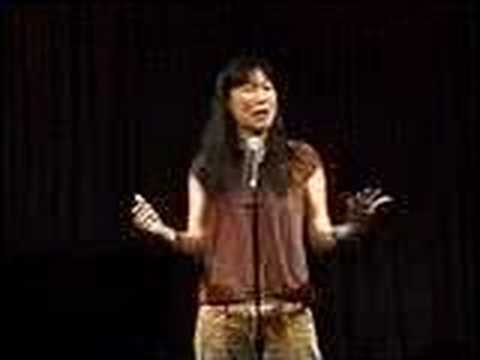 I started to do stand up because I found myself turning down performance spaces not conducive to my body of performance work. I also wanted to work in a medium that was so much more immediate to perform. It's been a good challenge to work without costumes, projectors, or livestock.
Shorter Works that are Somewhat Retired
The Years of Lying Dangerously
This was a short piece about dry humping for reparations and my survey of politicians who also need to dry hump instead of going all the way.
Laundry
Before I became the post post modern and post post post race artist you know now, I did this emotional and teary little piece about my grandparents and their laundry business.
Characters/ Personas
They function best when inserted in real life culture jamming situations. They've also been used to host events like the Intersections Conference Showcase at New World Theater and the Ethnic Studies Conference Showcase at the University of Southern California.
Fannie Wong, Former Miss Chinatown 2nd Runner Up
Not to be confused with the above-mentioned show of a similar name, Fannie Wong is a pimple-faced, cigar-smoking, whisky-drinking character whose claim to fame is that she was a former Miss Chinatown 2nd Runner Up (of what year, she cannot say, for she is a lady and cannot reveal her age.) Fannie allows her audience to come very close to her real life celebrity self. She is too crude to be anything like the deliciously sexy cultural icon of Miss Chinatown. She tells dirty jokes for fifty cents and will share a shot of Jack Daniels for a dollar with audience members. Fannie also takes her act on stage with her suspicious looking puppet VAG. If accused of being vulgar, Fannie will always insist, "I am a lady, and I do everything with a touch of class."
Click here for learn about past appearances!
Fannie Wong is also one of the subjects of Daisy Lin Shapiro's documentary "Yours Truly, Miss Chinatown" which was produced with the support of PBS/ NAATA and has been screening at festivals all year.
---
Lady Mora Cha-Ching of the Billionaires for Bush
In 2004, I had been to two anti-war rallies and was already emotionally exhausted, especially after my friend Miles and I almost got arrested (for doing nothing wrong mind you). There had to be a better way to have a revolution! I was intrigued by a classy group of culture jammers parading around asBillionaires for Bush, supporting the best president money can buy. So I switched teams and began rallying for the rights of the top 1%. I managed to sneak into a Republican party during the 2004 Presidential Inaugruation.Click here to read about my adventures!
---
Mildred Fong, Motivational Import Model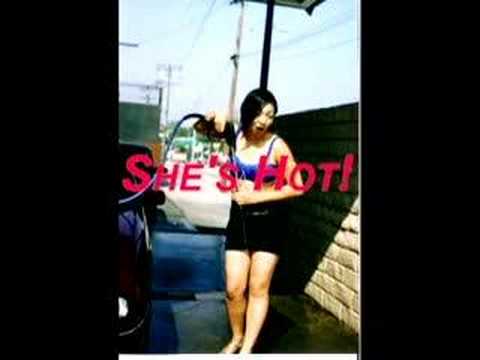 Some import models just spread them for the camera, but not Mildred! She pairs up inspiration with camel toe to spread a unique message about empowerment, activism, and um, setting up your own paysite. She also sings and dances. A hit with Asian American campus organizations who never saw it coming!