LEVY TRAN SPEAKS! ASIAN FETISH DUDES! VIRAL MADNESS!
It's been a busy few weeks in the life of Kristina Wong going off on white men.  It's like my career from my BigBadChineseMama.com days has been reincarnated.
I find humor on the Asian Fetish old hat but people are still eating it up.  How far we've not come.
My Essay "10 Wack Things White Guys Say to Deny Their Asian Fetish" went viral and is currently the 2nd most talked about essay on xoJane.  The firestorm of reactions prompted me to write a follow-up essay to that one: "10 More Wack Things People Say When You Write an Essay About Wack Things White Guys Say to Deny Their Asian Fetish."
If you've been living away from YouTube for a while, you may have missed the "Most Racist Music Video in History" controversy.  A yuck hipster band called "Day Above Ground" thought that "Satire" meant "Blatant Racism."
I was cooking eggplant and felt taken by the muse and proceeded to spend the next 36 hours putting together a response video (I'm not the fastest video editor).  HELP ME GO VIRAL!
I play LEVY TRAN, the import model featured in the Asian Girlz Music video.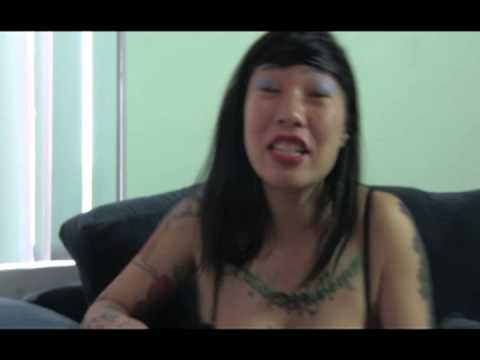 And I ended up making this awesome BONUS VIDEO where LEVY explains the meaning of her Tattoos…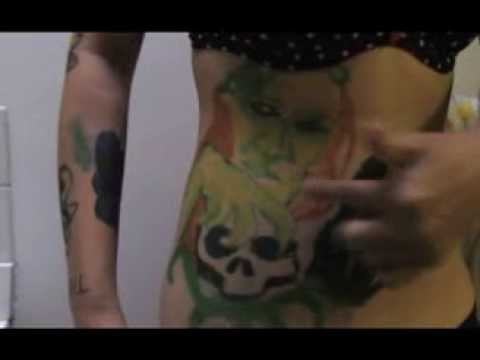 Anyway, here are the original lyrics to that song if you want a little taste of horror….
Asian girl, She's my Asian girl
You're my Asian girl, You're my Asian girl
You're my Asian girl, She's my Asian girl
Yes, my Asian girl, You're my Asian girl
I love your sticky rice
Butt fucking all night
Korean barbecue
Bitch I love you
I love your creamy yellow thighs
Ooh you're slanted eyes
It's the Year of the Dragon
Ninja pussy I'm stabbin'
Asian girl, You're's my Asian girl
You're my Asian girl, She's my Asian girl
You're my Asian girl, She's my Asian girl
Yes, my Asian girl, You're my Asian girl
Superstitious feng shui shit (what)
Now lay your hair by the toilet
I've got your green tea boba
So put your head on my shoulder
Your momma's so pretty
Best nails in the city
Pushing your daddy's Mercedes
Asian girl, She's my Asian girl
You're my Asian girl, You're my Asian girl
You're my Asian girl, She's my Asian girl
Yes, my Asian girl, You're my asian girl
New Year's in February (February?)
That's fine with me (I guess)
Yeah, shark soup (What? Fuck it, we'll eat it)
Oh, tradition, tradition, tradition, yeah yeah
Baby, you're my Asian girl
You're legally (best kind)
So baby marry me
Come on sit on my lap (right here baby)
Or we'll send you back
And you age so well
I can barely tell
17 or 23?
Baby doesn't matter to me
Asian girl, She's my Asian girl
You're my Asian girl, You're my Asian girl
You're my Asian girl, She's my Asian girl
Yes, my Asian girl, You're my asian girl
Arcadia
J-Town
Alhambra
K-Town
Temple City
Don't forget Chinatown
Get down
Happy endings all over
Bruce Lee
Toyota
Spicy tuny
Sashimi
Tasty Garden
Fried Lice
Sailor Moon
Wonton soup
Spring roll
Tibet
Foot rub rub a down down down
Fa ra ra ra ra ra ra ra ra ra ra
Tofu
All over you all over me
(Google it if you want.  The band says they will take the video down by midnight tonight, but I'm sure plenty of Youtubers have mirrored the video.)
Category: Blog