In Pursuit of Warmth.
I am in the midst of a conspiracy I'd like to call "JacketGate."
Ever since I moved to Los Angeles a million years ago, I have suffered from the inability of knowing what time of year it is. We don't have seasons, we just have a couple months when it rains twice and we put on hooded sweatshirts and scarves and complain about the "cold." But other than that, it's one long summer with slight fluctuations. We have one major season in Los Angeles… and that's "Pilot Season."
Right now, I'm in San Francisco. Since my last blog, I've been in Los Angeles, Knoxville, TN and New York City. In the latter two cities, I really experienced what they mean by "East Coast Winter." Imagine me wearing the one coat I own (a little suede number from the Out of the Closet thrift store) with the wind ripping right through me. Imagine me swearing through the windy streets of Astoria as I ran towards shelter and finally understood why people move to Los Angeles for the weather.
I am a cold weather sissy. And that's why I decided, January 2010 would be the perfect time of year to experience what they call "a Maine winter" at the MacDowell Writer's Colony in Monadnock, NH where I head in a couple days to work on my new play. I'll be there for over three weeks.
A few years ago, my filmmaker friend Michael Kang went to MacDowell this time of year and he sent me this apocalyptic picture from his New Year's Eve there. My jaw dropped ("froze" might be a more appropriate word) when I saw this…
This doesn't look like much of a "retreat." And granted, it's a picture of the parking lot and a homemade fireworks NYE show. But from the looks of it, it's going to be cold as misery (specifically, "feels like 11 degrees" says weather.com).
I seem to have a knack for traveling the country during the worst times of the year. Two years ago it was Florida in July. This year it was Alaska in January. Alaska was not as bad as I thought. I was inside the theater most of the time. There were times when the wind and snow would hit my face and it would feel like pins were stabbing my skin. But it wasn't apocalyptic the way Sarah Palin made us think Alaska was. And thanks to global warming, the weather hovered at a nice low of 30 degrees. I made it through Alaska wearing borrowed snowboarding clothes from my friend Teri. But this year, I didn't even have time to ask around to borrow clothes. I was traveling so much, I barely got a Facebook tweet out asking for a coat.
Looking at Michael's picture above has me realizing, that even a San Francisco cold weather jacket is not going to cut it. I need serious warmth. I need an ugly jacket.
If you've been reading, you know I have been purging the amount of stuff I own. Two yard sales and a half dozen trips to Goodwill and I have only shed the amount of stuff I own by 30%. I thought it was more, but as I really take a look around, I still got a lot of shit. Shopping has become a disgusting endeavor of late. The day after redistributing all my crap to the citizens of West LA in a yard sale, I was forced to go to Crate and Barrel to fulfill a friend's wedding registry. I almost vomited having to spend the money from the yard sale to buy more crap.
I've come to really loathe the practice of shopping.
I'm learning that everyone on the East Coast must be broke because a good winter coat is expensive. We're talking $300 North Face expensive. And I also realize, I need to get some real snow shoes which run $150. And it probably wouldn't hurt to buy a bomber hat rather than rely on this little crocheted beanie I got. I've owned bomber hats in the past that have been given away or lost. Teri loaned me hers for Alaska but I don't have it this year.
$450+ is an unfathomable amount to spend on winter clothes. My friends have all chided me: "But you might go out there again. It's an investment." But in my carlessness, I am in this time of life where I refuse to buy stuff, and I refuse to buy a jacket. Even if I need one, especially during this great purge. I'm trying to save up for this elusive house. And we live in a planet with such an excess of shit, surely someone has an extra coat to share. Surely, I can try to not contribute to mass consumption and utilize what already exists.
But nobody seems to have an ugly coat to share. My friends have offered their San Francisco winter jackets. But nobody has the floor-length puffy nonsense that I need.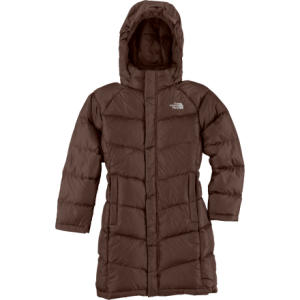 I thought, I'd try Ebay. No luck. Winter coats are as much online as they are in the stores. I found some decent ones less than $200 on the LL Bean and Eddie Bauer site, that apparently have been "tested" to work in below freezing temperatures. LL Bean is sold out of coats my size, and the Eddie Bauer store in San Francisco doesn't have any heavy ugly coats in stock. You see, because it doesn't get cold enough here for that.
Then I thought I'd get clever on Craigslist. Nobody was listing a coat like the one I was looking for so I thought I'd offer up to $100 for an ugly jacket if I included a picture of one. No luck. Multiple offers of fleece tops, cashmere scarves, but nobody in San Francisco seems to have an ugly jacket for an ugly winter. I even attempted to barter for winter clothes– because the principle of bartering means using what exists and most importantly, not using cash. I have all this yarn from my yarn hoarding phase hidden up here at my parents', and tried to barter that. Again, offers of things I don't need or the right coats in the wrong size.
I went to a cocktail party last night in San Francisco, where the hunt for this winter coat was a consuming part of my conversations. (I know, I am such the party animal.) Everyone was pretty intrigued by this quest for a jacket for cheap or free. I was offered suggestions of websites I could find them cheaper, who in the city I could borrow one from… none have panned out.
I even thought for a moment of signing up for those free coat programs for homeless people.
So I broke down this afternoon and decided, I'd buy a damn coat and put it on the charge card. Burlington Coat Factory has an obvious name for an obvious product. But what I found was only a small selection of coats that would get me through a San Francisco winter. No ugly, Michelin man sleeping bag with sleeves jackets for a Maine winter. Just thin, lightly downed selections. My mother was trying to be helpful, handing me coat after coat on the rack, and I couldn't help of being reminded of why I'd accumulated so much crap in all my years of living… because I always bought subpar shit and thus, had to buy it several times.
If I'm going to buy this ugly jacket and ugly snow shoes. I'm going to have to do it right so that I only have to do it once.
I may have to go shopping. At a mall. The day after Christmas. Like the rest of America. And still not find this ugly jacket. Ugh, nausea.
My friend Wei-Ming says she'll go post Christmas shopping with me tomorrow. Nothing is making me more ill than the idea of spending hundreds of dollars on winter clothes, creeping along elbow to elbow, from store to store with the rest of America, spending hard earned cash on crap that theoretically, already exists somewhere that I know someone is not using that I could borrow or barter.
I'm telling you. This is JacketGate.
In other news, my friends are having babies, while I'm running around the country looking for a free coat that won't put me in the poor house…. Meet Anja.
Category: buy nothing year, marriage grown up crap, new york city