RIP Flesh Batons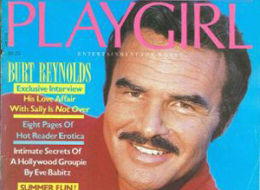 Just when I was getting used to looking at pictures of human unagi in the comfort of my own apartment…. Playgirl Magazine is folding. One less pillar of a woman's right to wank to weiner intended for her to wank to has fallen. Now girls will be forced to jerk off to the crappy porn that men make.
I had been a guest contributor for a few of their issues. Perhaps one of the funniest writing assignments ever. Alas… What will I do now with my writing talents and my large body of synonyms for "penis"?
Here is Colleen's article about it. She's much more the feminist porn historian than me.
The things I have from Playgirl to remember its legacy by…
— Countless oversized sex toys used in many unsuccessful submissions for stuffonmycat.com from Playgirl's "What will we do with this crap? Send it to Kristina Wong" excess closet.
— The adventures of the strangest midtown Manhattan business office I ever visited.
— "The Asian Man issue" that never happened but was very well intended and still exists in my soul.
— A filthy mouth that I cannot turn off (I had one before, but it was validated once I could make freelance cash from it).
— An experience with the gayest feminist friendly porn party ever.
— This stand-up set. The first time I did straight stand-up at a stand-up club….

Goodnight sweet hunks. I barely knew you. And now, I must find another feminist porn mag to whore my writing talents to… uh oh… Brother can you spare a dime? Or at least a picture of your third leg?
By the way, switching topics…. the Hip Hop Theater documentary is out. And I found out, plays tonight! I guess I will have to go. Can you spot your friend Kristina in this trailer? I am wearing a light blue tracksuit and will be on the left hand side of the screen.
Category: playgirl